Dive into the Oceans of Inspiration Screensaver, Sierra's effort of Love with 88 up close and intimate photos of the divine dolphins and whales, taken on her tours in Drake Bay, Costa Rica; Bimini, Bahamas and Silver Bank, Dominican Republic. Along with the photos are 88 of your favorite Oceans of Inspiration Echoes and messages.

Because of Sierra's intensely close connection with the dolphins and whales, these photos share intimate eye to eye moments of human/dolphin/whale interaction and have a pure vibration of LOVE. After reading the quote be sure to feel the energy contained in each photo.
Enjoy this sample of the Oceans of Inspiration Screensaver photos. The actual screensaver is high resolution and runs slower and in random order.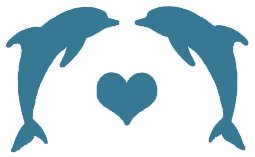 "I am in love with my Oceans of Inspiration dolphin and whale screensaver... addicted actually to the beauty and joyfulness that these pictures exude. Truly, really madly deeply in love with my screensaver!!! Sierra, thru her gifts of photography has brought these Beautiful Beings to my lap top. Stunning and awe-mazing!! But if that wasn't good enough, Sierra's quotes swoop me right into JOY. Her quotes are so wise, knowing, gentle, shifting and leading edge. Seriously, I am addicted...and what a joy to be reMINDed each and every time I come to my computer (which is a lot). Seeing these quotes and dolphins and whales are a way for me to pause, and align......sort of like pre-paving some joy before I connect to the cyber world. It is such a gift for my Spirit!!! These pics and quotes bring the Wisdom and Beauty and Joy of the Ocean to me.....right here. right now. It truly is an Ocean of Inspiration."
~ Flo Furtek ~
Only $4.44